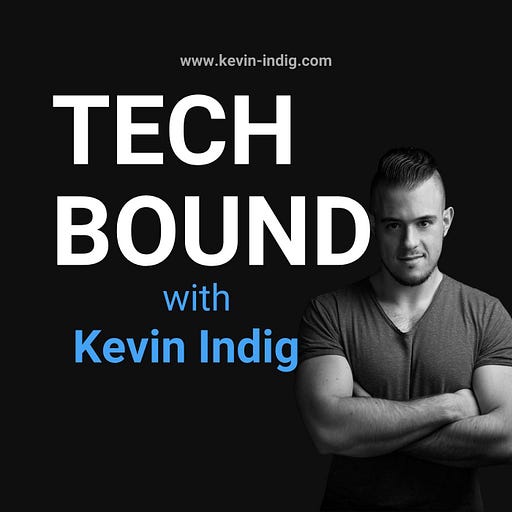 Nov 18, 2020 • 52M
Aaron Orendorff on best-in-class Content Marketing, e-commerce, and the "Sticking Point"
Tech Bound is a podcast about inspiring Growth Ideas pitched by the best in the field.
Aaron Orendorff is the VP of Marketing at Common Thread Collective and overall Content Marketing and Copy genius. In this podcast, we speak about non-linear buyer journeys, "The Sticking Point", best in class Content Marketing, and "Ground Zero" keywords. This podcast is a legit treasure trove of knowledge for any marketer!
Timestamps:
0:00 Introduction
0:01 Fanboying each other
1:38 What to learn about content marketing from being a pastor and US Army officer
7:08 Aaron's research process for copywriting
10:58 What is "the code"?
17:40 "ground zero" keywords
19:10 Going from creator to VP of Marketing
23:36 Tools to measure Growth
28:10 Where the biggest drop-off along the funnel happens
31:35 Human irrationality in marketing
33:54 non-linear buyer journeys
37:12 Aaron's "Zone of Genius"
42:01 The "Sticking Point:" of content
44:33 Rapid-fire questions
Show notes:
https://commonthreadco.com/
https://www.amazon.com/Breakthrough-Advertising-Eugene-M-Schwartz/dp/0887232981
https://www.verygoodcopy.com/verygoodcopy-blog-4/problem-agitation-solution-copywriting-formula
https://commonthreadco.com/blogs/coachs-corner/ecommerce-growth-strategy-business
https://commonthreadco.com/blogs/coachs-corner/ecommerce-podcast
https://www.iconicontent.com/blog/rejection-and-success
Subscribe to the channel for more videos: https://www.youtube.com/channel/UCoQ5uxfxcnObjzLAk1lmM6g?sub_confirmation=1
Subscribe to the Tech Bound Newsletter for more content: https://www.kevin-indig.com/tech-bound
Follow me on Twitter: https://twitter.com/Techbound2
iTunes: https://podcasts.apple.com/us/podcast/tech-bound-conversations/id1488939659
Spotify: https://open.spotify.com/show/1Ze0gqMmuh22rR8rVv0oz8?si=87cysHp3S5yEzNuuUK9Ezg
Soundcloud: https://soundcloud.com/kevin-indig